Pacific Alternatives: Cultural Heritage and Political Innovation in Oceania
"Pacific Alternatives" was a major international research programme hosted by Bergen Pacific Studies research group between 2008 and 2012. The programme was generously funded by The Research Council of Norway: 185646 Pacific Alternatives (Major Grant for Social Science [FRISAM], 2008-2012). Project Director was Professor Edvard Hviding.
While the funding period of the programme is completed, the collective spirit of "Pacific Alternatives" lives on. Collaborative research agendas developed during 2008-2012 continue to develop on many fronts, as do diverse publication agendas. Follow this page for updated information on new publications and research initiatives.
The objectives stated in the original 2008 Project Summary (below) were fulfilled, and throughout the website of the Bergen Pacific Studies Research Group, a number of "Pacific Alternatives" outcomes – ranging from student training and scholarship programmes to museum digitalization and online databases – are presented in more detail. A final report in book format is under completion and will be made available online. To indicate the grounding, scope and planned outcomes of the "Pacific Alternatives" programme, we here provide the original project summary.
2008 Project Summary
The "Pacific Alternatives" project is founded in a strong scholarly network of mutual commitment to joint research effort, involving key institutions in Europe, North America, Australia and the Pacific Islands. Funded mainly by the Research Council of Norway (Major Grant 185646, 2008-2011), the project is based at the University of Bergen (Department of Social Anthropology). The two key institutional partners cooperating under signed agreements with the University of Bergen are the University of Hawai'i (Center for Pacific Islands Studies and Department of Anthropology) and the East-West Center (Pacific Islands Development Program), both located on the Mānoa campus in Honolulu. The project builds on years of expanding cooperation between the Mānoa and Bergen campuses in the fields of research collaboration and student exchange. Additional project partners with signed institutional agreements are the Solomon Islands National Museum, Vanuatu Cultural Centre, the British Museum (Department of Africa, Oceania and the Americas), University College London (Museums and Collections), James Cook University (Department of Anthropology, Archaeology and Sociology), New York University (Faculty of Arts and Science) and the University of Tulsa (Department of Anthropology).
In this project, internationally leading scholars, research groups, and institutions in the multi-disciplinary field of Pacific Islands Studies join forces across a broad range of interrelated themes centred on the twin analytical concepts of cultural heritage and political innovation. The project aims to examine contemporary connections between expanding perceptions of cultural heritage (including objects, visual representations and 'intangible cultural heritage' and grassroots 'culturalist' social movements) and the emergence of new political forms in response to challenges of global political economy – all in the context of the Pacific Islands region. The concepts of cultural heritage and political innovation will serve as an analytical platform for understanding social developments in the Pacific with a view to providing more general insights into important global processes, as nation states world-wide are weakened and challenged from local and global agents. Together these concepts stand for the creative forms of 'Pacific Alternatives' that our experienced group of collaborating scholars aim to grasp, analyze and theorize. A major underlying assumption of our project is that global generalizations are possible on the basis of carefully selected case studies of cultural heritage and political innovation in the Pacific region.
As addressed from the regional vantage point of the Pacific, and from the combined perspectives of anthropology, political science, archaeology and history, the research topics included in this project – in which more than 20 collaborating scholarly investigators pursue fieldwork-based sub-projects individually and in teams – hold the combined potential for theoretical and methodological re-orientations of globalization studies, for providing fresh perspectives on the field of cultural heritage, and for promoting an integrated approach to understanding the interfaces between culture and politics. The case studies examined by the group of collaborating scholars include a range of sites in Solomon Islands, Vanuatu, Papua New Guinea, Cook Islands, Federated States of Micronesia, Palau, Hawai'i, Aotearoa New Zealand and Australia. Several additional components (including graduate student projects and activities by additional scholars) are under way in Fiji and other Pacific Island nations.
The project's visions and budget include components of training-and-education, scholarship programmes for students and scholars from Pacific Island nations (under the Norway-Pacific Islands Scholarship Program tenable at the East-West Center, Honolulu), scholarly and financial support of local cultural centres and national museums in the Pacific Islands (building on established cooperation with UNESCO), a sequence of co-funded international conferences, and a wide-ranging publication-and-dissemination programme that includes a "virtual museum" and the provision of a range of educational materials for use in schools and distance learning in the Pacific Islands, carried out in cooperation with national and regional educational institutions. In cooperation with Pacific Islands governments, digital databases of research results will be established in order to promote innovative forms of dialogue about research and its uses. A pilot project for this effort is under way for the Western Province of Solomon Islands.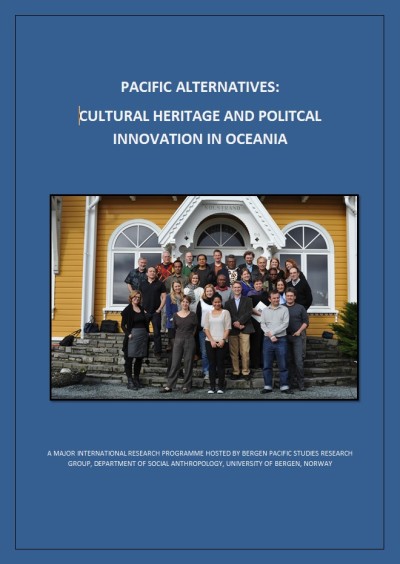 Download Project document in PDF