Tom Bratrud
Ph.D, University of Oslo
Tom Bratrud is Senior Lecturer at the Department of Social Anthropology, University of Oslo. He was a visiting scholar at the Bergen Pacific Studies Research Group from April to June 2016 and has collaborated with the group since 2009.
Bratrud has conducted a total of 20 months of anthropological research in Vanuatu since 2010, mainly on Ahamb Island in Malekula. His work deals with social organization, cosmology, Christianity, values/morality/ethics, conflict management and social change.
His master's project Finding Ways: Community and its Challenges on Ahamb, Vanuatu (2011) examines the relationship between local principles of community making and current disputes on land rights and authority on Ahamb. The thesis was based on seven months of fieldwork in 2010.
His Ph.D thesis Fire on the Island: The Transformative Power of a Christian Revival in Vanuatu (defended in March 2018) examines a startling Christian revival that developed on Ahamb and the rest of Malekula in 2014. The aim of the revival was to bring spiritual awakening to the people of Malekula through the powerful presence of the Holy Spirit. A special characteristic of the revival was that the Holy Spirit granted powerful spiritual gifts of vision and prophecy to children. This made the children become the main actors in a process of moving the society away from capriciousness and sin (disputes, division, egoism, sorcery) and into the divine will of God (peace, unity, kindness, piety). In the thesis, Bratrud uses the revival as a point of entrance for investigating a range of contemporary social processes in Melanesia, bringing together themes like morality, Christianity, politics of land, sorcery, and the generative potential of events. The Ph.D thesis is primarily based on 12 months of fieldwork in 2014, but spans a total of seven years of engagement with the Ahamb community from 2010 to 2017. Bratrud's latest fieldwork in Vanuatu was in 2017.
Bratrud's research appears in:
2017. "Spiritual War. Revival, Child Prophecies and a Battle over Sorcery in Vanuatu." In K.M. Rio, M. MacCarthy & R. Blanes (eds). Pentecostalism and Witchcraft. Spiritual Warfare in Africa and Melanesia. New York: Palgrave MacMillan. (Open access. Available: http://www.bookmetrix.com/detail/chapter/1c1adf83-2089-490b-a263-1a2a481a3380​)
2013. "Bisnis, Risriskure, Sociality: Melanesian Egalitarianism and a Monetary Modernity on Ahamb, Vanuatu." The Norwegian Anthropological Journal 2 (24): 100-111. (Available: https://www.idunn.no/nat/2013/02/bisnis_risriskure_sosialitet_-_melanesisk_egalitet_og_pen)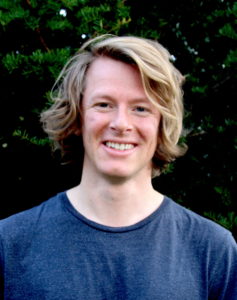 Contact: